The cleaning industry is brimming with opportunity – an earlier forecast reflected that the sector will earn over $53 billion in 2021 and grow by 10% by 2026. More than 1.9 million people are employed in the cleaning industry, but it is still predicted to drive 6% year-over-year growth in new business due to increased demand. Let's not forget how popular this industry is, especially among single-person households, which comprise 27% of America.
From the previous paragraph, we can conclude how many cleaning companies exist. Let's consider that 30% of companies do not have a website at all, and more than 70% of those who have a website do not have online booking services. If you are in this 30%, I congratulate you because you are already at a significant advantage compared to the competition.
Unfortunately, that's not all. In the sea of ​​competition, you must stand out and prove to potential customers that you are the right choice.
It is best to start with yourself! How often have you given up on a company if you noticed that its website looked outdated, loaded slowly, or didn't contain enough information? A website reflects your commitment to work, it is the first thing a potential customer notices about you, and therefore the first impression must be positive.
For your website to satisfy a potential client, it must be:
Modern.

Fast.

SEO friendly

To contain beautiful photos.

To contain all information about your services (it is best to be closely related to a service), e.g., residential or commercial cleaning.

You must specify the service area and the cities, regions, or parts of the city where you work.

Highlight the ratings of your customers, and let them be visible on the site (this is something potential customers believe because they have no other information about you).

Provide the possibility of live chat on the site.

Allow customers to get a discount in some amount during their first appointment.

Create a page about your company, where you will introduce yourself in a few sentences and photos and convince potential customers that you are the right choice for them.

Let your site include a page for job applications. Why would you pay for additional services for employment if you already have a dedicated website?

Make a good choice of the booking software provider because once the business starts, it is more important to focus all your time on your primary business and not on the secondary things, let the software do everything it can for you.
Let's see why all the above functions are essential for your website and how you can improve your search engine presence in the sea of ​​competition. 🙂
Website speed

Hosting
Website speed depends on a large number of parameters. The most important thing is to choose a good hosting. Hosting must be adapted to your business and company growth expectations. It is also essential to choose WordPress or another CMS that will allow you to change the content on the website yourself periodically. This will save you a lot of money, because you don't have to pay a developer for every change on the website.
Many hosting providers offer WordPress-optimized hosting, which is fantastic. Still, you must know that choosing a server that is physically closest to your potential clients/your service area is crucial.
We compared the prices for you and came to the information that solid hosting can be found for 20 USD to 40 USD per month.
Wordpress themes for Cleaning Business
Then we come to the essential part, which is the WordPress theme. No matter how high-quality the hosting is, if you have a poor or outdated WordPress theme, the site will not rank well in the search and with the visitors of your website.
There are millions of WordPress themes on the market, but mostly all of them are designed for multiple business categories. For such a theme to work, it contains many unnecessary plugins and scripts that, instead of contributing to the site's quality, only slow it down and make it difficult to start. Of course, now we are talking about cheap themes you can buy at all WP theme shops.
The prices of WordPress themes vary from 80 USD up to 600 USD, and their price is justified by the time it takes to create such a theme and the possibility of selling it.
There are companies that sell multipurpose themes, and they can sell it to a company that deals in cleaning and also to a company that deals in the sale of sweets, therefore its sales potential is tremendous so that it can sell a theme for 80usd
Some companies are engaged in the production and sale of threads for narrow niches. These themes are adapted to your business, contain only parts you need, and do not have unnecessary additions and demo content that complicate the operation of your site. You will also often come across a ready-made theme where you enter basic information about your business, and in a few minutes, you will have a ready-made website for your business. Themes like this have to be more expensive because a lot more time and money are invested in their creation, and the sale of such themes is limited to narrow niches.
SEO friendly
On the topic of SEO, you can learn a lot from our previous posts on our blog. In short, Search Engine Optimization is a whole series of processes and procedures that enable your website to communicate with Google, Yahoo, and Bing search engines.
Correctly placed SEO on your website will help the search engine offer your website as the most relevant result in the search based on the query of the potential customer.
If, for example, a potential customer enters "Cleaning Company Dallas" in the search, and everything on your site is adapted to such a search, Google will offer your future customer your company among the first results.
Photos that refer to your cleaning business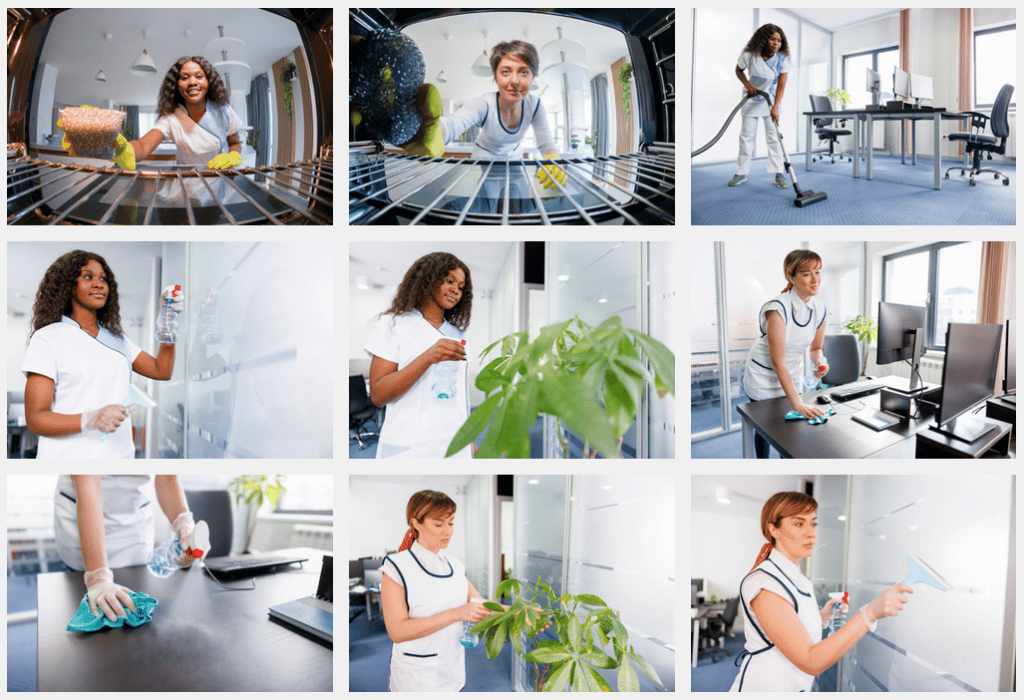 You must have quality and relevant photos on the website. In the section about your company, it would be good to have a picture of your team, your branded car, and photos before and after your work.
You can also use STOCK photos, but the image description must state what the image describes on your page. Due to intellectual property rights, photos must not be stolen from competing websites. Images must be purchased from sites that deal with this or display your own photos that you have the right to use.
Quality themes include photos with the right to use them on your website.
It is good to know how to combine the colors in the photos to match your brand's colors.
The prices of STOCK photos on websites that deal with it are from 3 USD to 10 USD per photo.
Customer ratings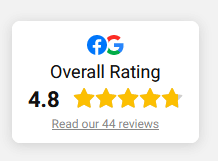 To display customer reviews on your site, you must first allow your customers to rate you.
What potential clients see as the most relevant information are Google Reviews.
If you want to create a Google My Business account, follow the  instructions from below.
On your computer, sign in to your Google Account, or create one.
If you create a new Google Account, sign up with your business email domain.
Go to create a profile.
Enter the name of your business. You may also be able to select your business from the list of suggested businesses as you type. 
Search for your business category.
Click Next. 
Choose whether you have a location customers can visit.

For businesses with a storefront staffed during business hours: Click Yes.

You may be asked to enter your business address or position a marker on a map for the location of your businesses. When finished, click Next.

For businesses that don't have a storefront staffed during business hours: Click No.

Enter the service area of your business.

You can set your service area based on the cities, postal codes, or other areas that you serve. You can add up to 20 service areas. 
Tip: We recommend you do not extend the boundaries of your overall area farther than 2 hours driving time from where your business is based. For some businesses, it may be appropriate to have a larger service area.

Enter a phone number and website URL.
Click Next.
Click Finish.
Select a verification option.

Tip: We recommend reviewing your information before you request verification.

To verify now: At the top, find the red banner and click Verify now.
To verify later: Click Verify later Later.
If you're not authorized to manage the Business Profile for the chain: Find the person in your organization who's authorized and continue the process.
Live chat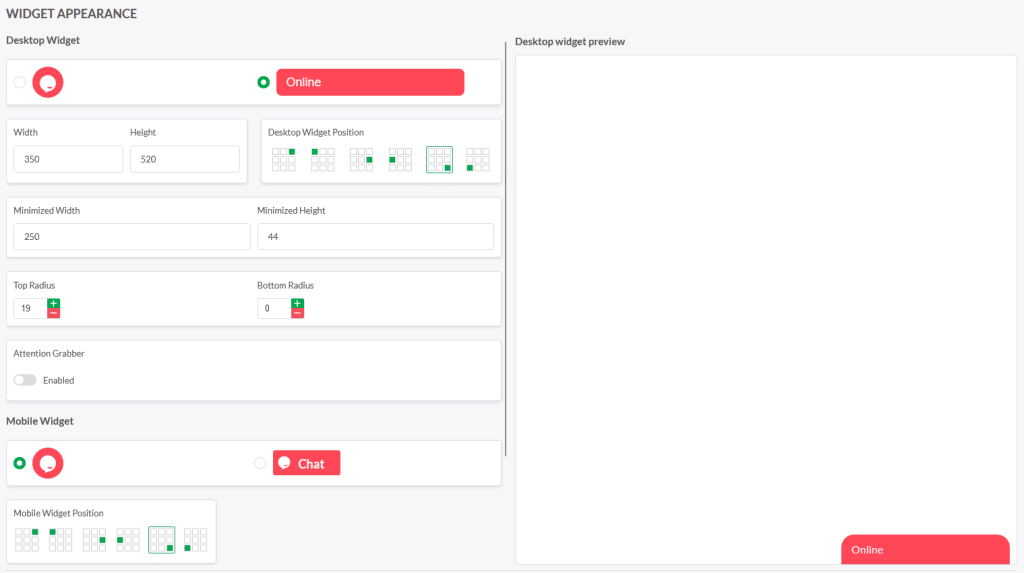 Live chat is a vital segment of the website. There will always be clients who are impatient and interested in some information that you don't have on the website.
The live chat widget allows you to start a conversation with the client completely free of charge and without obligation. Everyone likes to communicate directly with the business owner.
Like as Google My Business, you can integrate the chat widget on your website, completely free.
Visit the link: tawk.to and register your account completely free of charge. Follow the instructions through registration, and at the last step, you will be able to generate a code that you can integrate into the header of your site. You also have the option to install the tawk.to application on your mobile phone and communicate with your clients anytime.
Discount for first purchase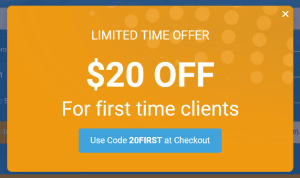 Allow the customer to get a discount when they first schedule your service.
It is best to provide the information through a pop-up window. Let a pop-up appear after 5 seconds that will offer customers a discount of 20 dollars if they schedule a cleaning today.
You can easy create the pop-up with the help of the Elementor PRO plugin.
Let your site be made using the Elementor plugin, which has been the number one page builder for a long time.
Job application page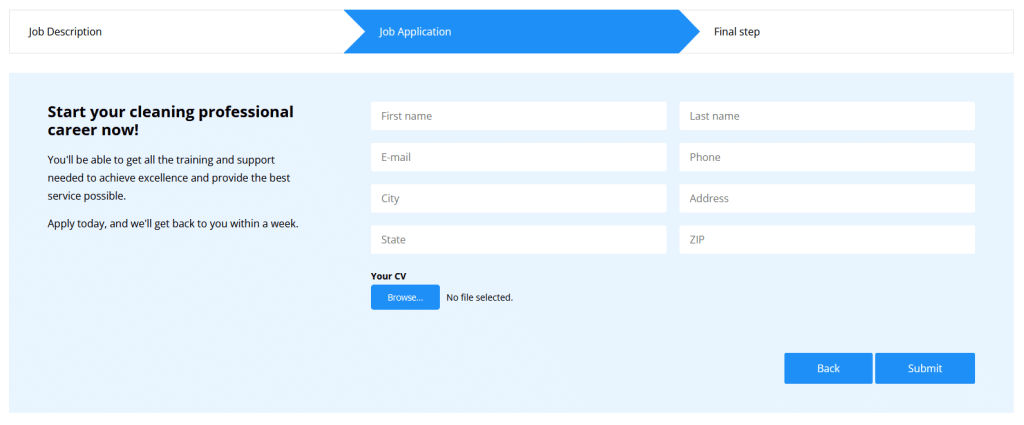 As you know, it is challenging to find a good worker, so employment sites charge for finding workers. Why would you not create a page with a form on your website and thus enable you to reach the workers free of charge?
With the Elementor PRO plugin, you can easily create a form that will enable you to do this.
Booking software provider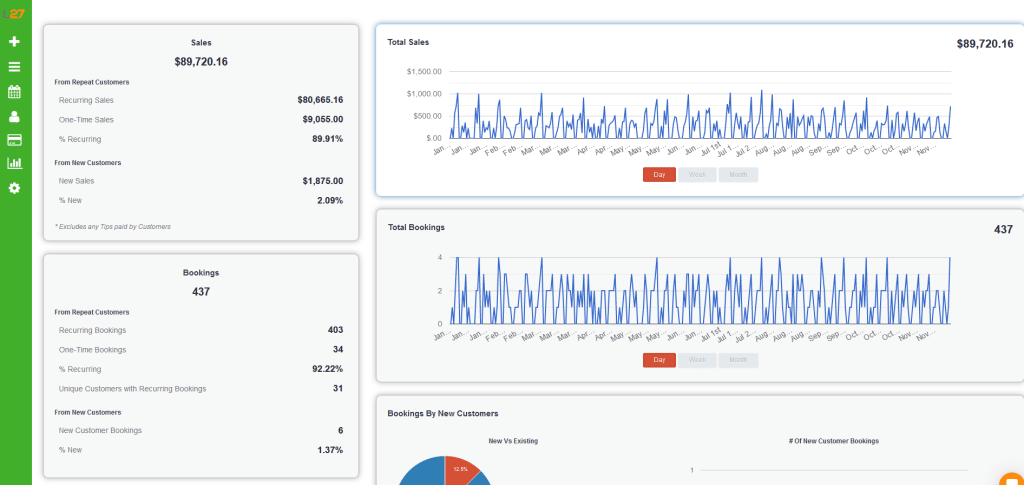 Since our only activity has been the creation of websites for the cleaning business for ten years, we are very competent in evaluating the best price-quality ratio. And that is launch27. We have no benefit from them, and this is friendly advice.
When choosing a booking software, ask carefully how many times a service has been down, how many dissatisfied clients they have behind them, and only then ask about the price 🙂
Launch27 offers several packages, so you can choose the cheapest one if you are new, and on the beginning of your business.
Bonus suggestion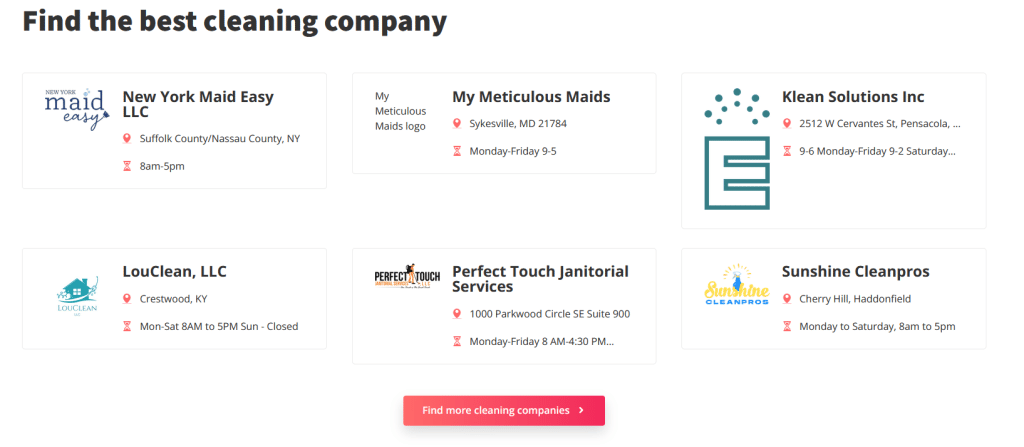 List your website on cleaning company search sites. Backlinks are extremely important to your website. When your domain is mentioned on a high-ranking domain, search engines watch your site as higher quality compared to sites that do not have backlinks.
Business directories related to your business niche are a good resource, and some of the most popular are:
ThemeStreet WaaS (Website as a Service in the cleaning industry)
I hope I helped you understand how important it is to be qualified in a crowd of competitors. If you found the text interesting, you should also read this 🙂
After more than 4000 clients and their websites, we learned a lot about the cleaning industry and market needs, so we decided to create something unique, which is WaaS (Website as a service) in the cleaning industry.
We offer you to be your CTO, take over the entire website and care for it while you do your work, and don't waste your energy on things outside your control.
We offer you a monthly or annual rental of our services for the money you would surely spend on your online presence, and you would have to invest a lot of your time, which you can now spend on your work and devote yourself to your earnings.
We remind you that a developer's hour is from 35usd to 55usd, just installing the theme is from 100usd to 200usd, hosting from 20usd to 40usd, the price of a decent WordPress theme is about 500usd, photos for one website can cost you up to 700usd. Servers, themes, and plugins must be updated periodically, which could cost you additional if you are unfamiliar with the server and WordPress environment.
WaaS is nothing new. Millions of businesses use it daily, and from now on, it is also available in the cleaning industry.
What does ThemeStreet WaaS offer?
Need free or advanced advice or help with your cleaning business website?